What you do makes a difference, and you have to decide what kind of difference you want to make."
– Jane Goodall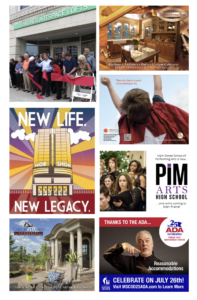 Want to get the word out but not sure where to start? Too many tasks and not enough time? Can't find the right words to share your story? Look no further. I've got your back. As your partner in the process, I'll work closely with you—and your staff— through the successful completion of any (or all) of the following services:
Marketing Strategies and Implementation
Collateral including Annual Reports, Brochures, Direct Mail
Email Marketing and Social Media Strategies
Project Management
Copywriting and Content Development
Visual Identity / Logo Development
Website Development
From concept to completion:  First, we'll get acquainted. You do the talking. I'll do a lot of listening and learning. Then we'll create a game plan that brings creative solutions to your marketing needs and suits your budget and timeframe. If need be, we may also call on one of my many trusted colleagues who bring unique expertise in graphic design, custom website development, and more. We will draft a proposal to ensure full transparency of costs, roles, and timelines. Then we'll get to work. You can rest assured we'll bring cost-effective services and personal attention throughout your project.
Coach. Guide. Mentor. Friend.
My role and relationships with my clients are about more than just consulting. It's a partnership that brings peace of mind (and a promise of some laughter along the way!)